Agricultural Field Posts
End Posts & Interior Supports for Orchards, Vineyards and Shade Structures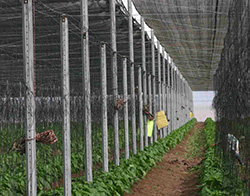 Our RIB-BAK U-channel posts are perfectly suited for the needs of the agricultural industry, such as trellis systems, shade structures or bird and insect netting. They provide stronger posts (80,000 PSI minimum yield) that won't rot or carry disease, plus a host of benefits no other single post can provide.
System features include:
Greater strength (80,000 PSI minimum yield) at load bearing points than other posts, especially wood.
High-tensile strength (140,000 PSI minimum) allows more weight to be distributed per post, requiring fewer supports per acre.
Easily installation. Using a conventional power post driver, they can be driven in place in approximately 30-40 seconds even in the harshest soil conditions. That's less than one-fourth the time required for a comparable pine post.
No drilling or backfilling necessary.
Will not rot or carry disease.
Added economy of holes running the length of the posts. Side pieces of U-channel or other steel components are easily bolted to the support posts.
AGRICULTURAL FIELD POSTS
| RIB-BAK Capacity | Maximum Load* |
| --- | --- |
| 2 lb. | 400 lbs. |
| 3 lb. | 1,120 lbs. |
| 4 lb. | 1,500 lbs. |
| 5 lb. | — |
*Tests conducted at UC Davis Research Facility at Oakville, CA. Posts driven to a depth of 36" in compacted soil and hardpan. Pull tests conducted by attaching a chain to the test sample while concurrently connecting a chain to a deadman on the opposite end. A "come-a-long" provided pull and a crane scale measured load capacity in pounds at midpoint.