NU-CABLE High Tension Barrier System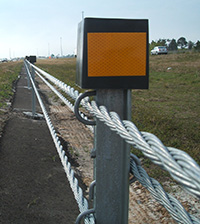 The
NU-CABLE
High Tension Cable Barrier System offers a unique combination of TL-3 and TL-4 crash-test proven protection and visual appeal in both median and right-side guide rail applications. Plus the added bonus of a 50 to 75% cost saving versus traditional W-beam and concrete barriers, and up to 20% savings over other high-tension cable systems.
System features include:

Deflection ranges of 5.25' to 9.81'. Deflection can be varied to meet road/terrain requirements.
Available in both 3-cable (TL-) and 4-cable (TL-4) designs.
Easy to maintain and repair – lower installation costs are augmented by continuing savings.
Utilizes strong (up to 100 KSI yield strength) yet economical 4-lb. or 5-lb. Nucor Marion Steel RIB-BAK U-channel breakaway steel posts, galvanized for long life.
Posts can be driven in soil, installed in direct-driven steel socketed foundations, or installed in concrete socket foundations.
Cables and posts attached with unique locking hook bolts that absorb energy during crashes.
Utilizes cost-effective standard ¾" steel cables, tensioned up to 5,600 lbs. (25KN). Cables are tensioned on site and tension can be customized by installers to meet site needs.
NCHRP 350-approved system that tested superior in deflection tests to competitive cable system that uses plastic inserts instead of hook bolts.
Anchored at both ends into FHWA approved Cable Release Posts.
Visually appealing see-through system allows for better driver visibility and snow pass through.
50 to 75% cost saving versus traditional W-beam and concrete barriers.
Can be repaired after being hit in as quickly as 30 minutes.
Post Spacing: 6.6′ to 20′.
| | | |
| --- | --- | --- |
| | NU-CABLE TL-3 | NU-CABLE TL-4 |
| RIB-BAK U-Channel | 4 or 5 lb./ft. Nucor Grade SP-80 | 4 lb./ft. Nucor Grade SP-80 |
| Top Cable Height | 29 1/2" | 41" |
| Number of Cables | 3 or 4 | 4 |
| NCHRP 350 Tested | TL-3 Compliant | TL-4 Compliant |
| Foundation Type | Direct Drive, Concrete Socketed or Direct Drive Steel Socket | Concrete Socketed or Direct Drive Steel Socket |
| Slopes | Up to 6:1 | 4:1 |