NU-CABLE Low Tension Barrier System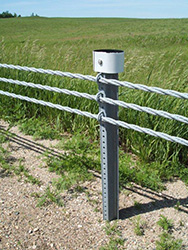 The
NU-CABLE
Low-Tension Cable Barrier System is applicable for guide rail applications where deflection needs are 12 ft. or greater. Three 3 x 7 steel cables are supported by strong (up to 100 KSI yield strength) yet economical 4 lb. Nucor Steel Marion RIB-BAK U-channel posts. The system offers a unique combination of TL-3 crash-test proven protection and visual appeal.
System features include:

Easy to maintain and repair – lower installation costs are augmented by continuing savings.
Utilizes strong (up to 100 KSI yield strength) yet economical 4-lb. Nucor Marion Steel RIB-BAK U-channel breakaway steel posts (as an alternative to the S3 x 5.7 x 5′ – 3″).
Posts are galvanized for long life.
The Nucor 4 lb. RIB-BAK post is an accepted alternate post for the commonly used generic low tension systems on the roadway today.
Cables and posts attached with standard J-bolt connection hardware.
Anchored at both ends into FHWA approved Cable Release Posts.
Visually appealing see-through system allows for better driver visibility and snow pass through.
Can be repaired after being hit in as quickly as 30 minutes.
The Modified RIB-BAK Low-Tension System utilizes the Nucor locking hook bolts as well as the 4 lb. RIB-BAK U-Channel post. This system allows for deflections less than 12 feet.
| | | |
| --- | --- | --- |
| | NU-CABLE Low-Tension | NU-CABLE Modified Low-Tension |
| RIB-BAK U-Channel | 4 lb./ft. Nucor Grade SP-80 | 4 lb./ft. Nucor Grade SP-80 |
| Deflections | 12' | Less than 12' |
| Number of Cables | 3 | 3 |
| NCHRP 350 Tested | TL-3 Compliant | TL-4 Compliant |
| Connection Hardware | Standard J-bolts | Locking Hook Bolts |
| Post Spacing | 16' | 16' |
| Slope Rating | 6:1 | 6:1 |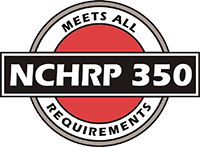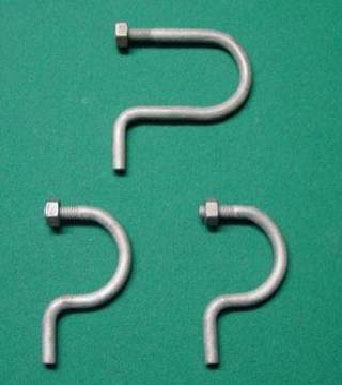 Locking Hook Bolts