NU-FLEX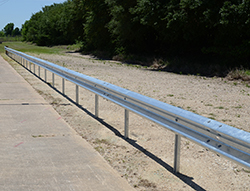 NU-FLEX
is a flexible barrier system available for use
without
offset blocks for 31″ rail height applications. The system is crash-test proven to guard against collisions with fixed objects or hazards.
System features include:

Crashworthy to MASH Test Level 3 criteria and deemed eligible by the FHWA for roadside applications with design speeds up to 65 mph and wherever a maximum dynamic deflection of 88" [2235] is allowed. (Ref. B-288)
Does not require offset blocks. The narrow profile of this barrier is valuable when roadside space is limited.
RIB-BAK 4 lb./ft. U-Channel post is lighter, easier and faster to install than S3x5.7 I-beam posts, and are available galvanized or powder coated.
Through-bolt slot works to maintain rail height during impact and allows for a more tolerant installation height than other comparable modified weak-post systems.
Utilizes same post spacing and flying splice rail elements as comparable modified weak-post guardrail systems, but with less hardware, no soil plate and reduced normalized deflection.
| | |
| --- | --- |
| | Normalized Dynamic Deflection |
| Weak Post Guardrail System (476460-1-7): | 105.6″ |
| NU-FLEX™ (690900-NSM17): | 79.0″ = A 25% REDUCTION IN NORMALIZED DEFLECTION |
*Source Texas A&M Transportation Institute
NU-FLEX BARRIER SYSTEM
Guardrail
Use with standard w-beam (AASHTO M-180, Class A or B, Type II)
W-Beam Height
25″ Center-Line of Rail
31″ (+1″/-0″) Top of Post from groundline
RIB-BAK U-Channel
4 lb./ft.; 6' 6"; Nucor Grade SP-80
Post Spacing
6' 3" Typical
Offset Blocks
Not Required
Slope
6 to 1 or less
MASH Tested
MASH TL-3 Compliant